News
ARTISANAL EVOLUTION 2022 - Milan Fashion Week 2022
by Cristina Mocchiutti on Sep 18, 2022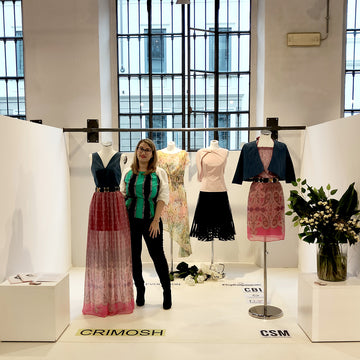 Have you come to visit us in Milan at Milan Fashion Week 2022?
20 Sep 2022 – 26 Sep 2022
Crimosh's collaboration with Elisa Gaito Showroom during Milan Fashion Week was a success.
The collection of high quality sartorial clothing and accessories that I exhibited to the public met with a lot of enthusiasm and curiosity from the public who came to visit the showroom.
"Artisanal Evolution" is an exhibition event aimed at introducing new businesses into Milanese showrooms, which aims to enhance and promote artisanal brands and "Made in Italy" excellence. Being selected nationally to participate was truly an honor.
Thanks to the attention to detail in the design of the exhibition, it was possible to breathe an elegant and modern atmosphere, which helped to present my clothes in the best possible way.
I brought a selection of innovative clothes and accessories. Each piece was full of unique details, such as prints, metal inserts, precious fabrics and dedicated accessories.
Throughout the week in Milan, I had the opportunity to meet many industry professionals, including stylists, journalists, fashion bloggers and influencers. Important personalities who have appreciated the quality and style of Crimosh.
The exhibition at Elisa Gaito Showroom opened the way to new opportunities for Crimosh and we hope to be able to repeat the experience again next year!
The event which is organized every year by Confexport, with the support of ICE together with Csm- Camera Showroom Milano in collaboration with Confartigianato Moda and sponsored by the Municipality of Milan
The showroom is one of 16 associated with CSM.
Thanks to all the people I've collaborated with and who have supported me in this adventure.